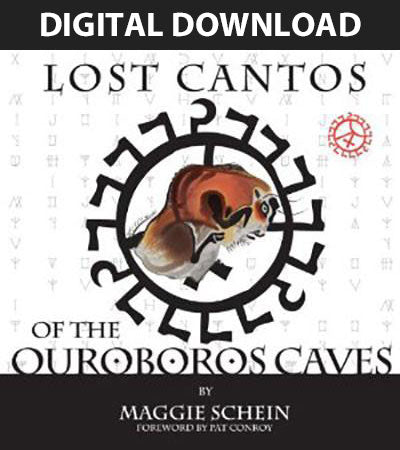 Lost Cantos of the Ouroboros Caves: Narrated by Janis Ian - Audiobook Digital Download
---
PLEASE NOTE: This item must be ordered from one of our partner vendors.
Click on the logo below to purchase the downloadble audiobook (Audible.com).


A collection of fables in the literary tradition of Italo Calvino (if he were a Taoist seeker), Lost Cantos of the Ouroboros Caves brings together medicine men, monks, immortals, witches, seekers, souls in various stages of their cycles in and out of lived-life, and the occasional talking animal, all searching for the meaning of it all and each other.
Also available in print from your local independent bookstore!!!
The inside scoop: I wrote to Pat Conroy thanking him for a lovely letter he'd sent me some years before and asking whether he'd donate something for our "Prose for Pearl" auction. (Which he did!) At that time, Maggie Schein was Pat's assistant; with his encouragement, she'd just finished her first book. Pat was very much her mentor, and when she asked whether I wanted to narrate it, the answer was "Of course. Any friend of Pat's...." It's quite a marvelous collection, and I was thrilled to work on it and, over the course of our work relationship, to become friends with Maggie.
---
Share this Product
---
More from this collection