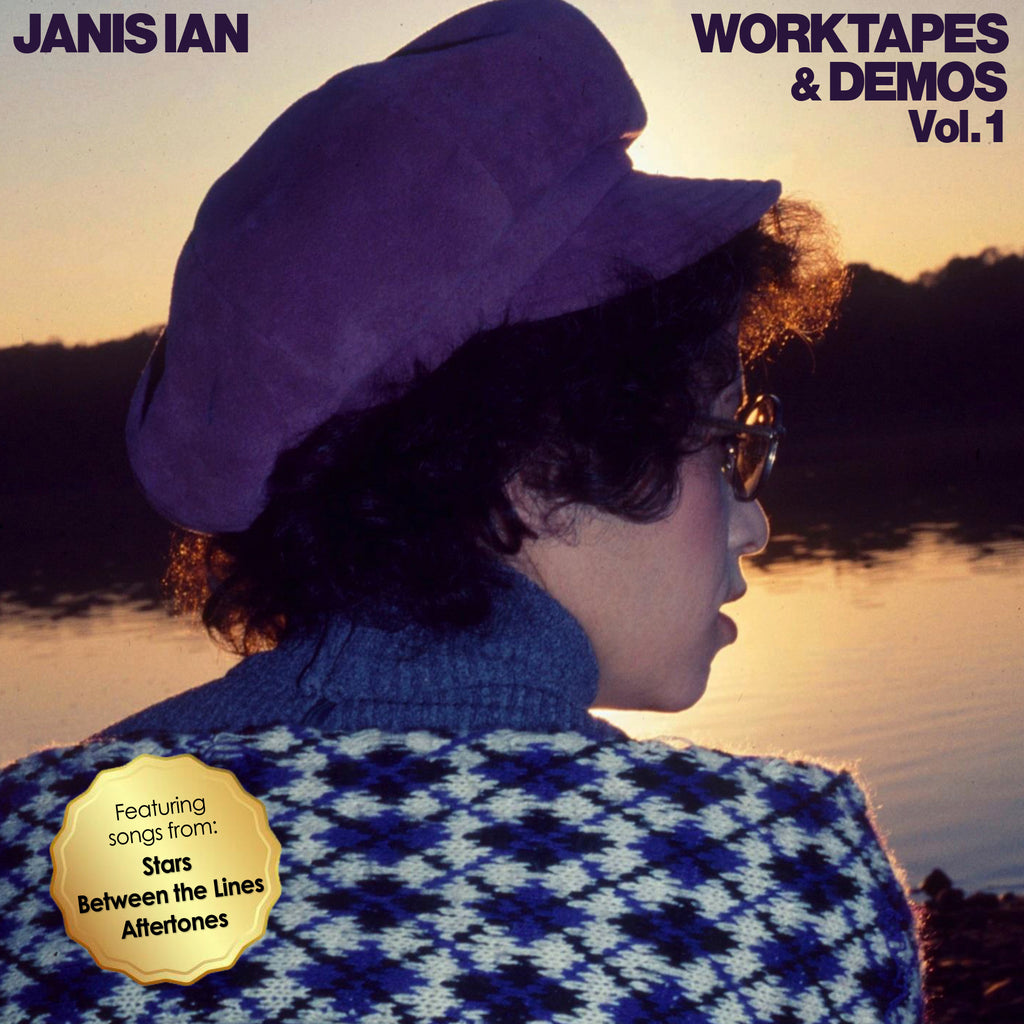 Worktapes & Demos Vol. 1 - High Quality MP3 Digital Download (2023)
---
IMPORTANT: Please read this information regarding downloading audio files to your phone or tablet.

The album is also available as CD quality FLAC files.
For a limited time Worktapes & Demos Vol. 1 & Live At The Calderone Theater 1975 are available together as a specially priced bundle: CD quality FLAC files or high quality MP3 files.
High quality cover art, album credits and song lyrics are included in your download. Lyrics are available on the Janis Ian website.
The album is also available via a variety of digital distributors such as iTunes, Amazon, Spotify and more.
Tracks:
Applause 
The Man You Are in Me
Jesse
Thankyous
Page Nine
Without You
I Love You Best
The Come On
From Me to You
One-Armed Johnny
Lover's Lullaby
In the Winter
Belle of the Blues
Boy, I Really Tied One On
Roses
Aftertones
Don't Cry, Old Man

From Janis: Once I lost the ability to perform as a vocalist, Jeff and I began talking about long-delayed projects we still wanted to do. Realizing that my archives contain hundreds of work tapes, live shows, demos, rough mixes and the like, we began putting together a series of potential "albums" that would feature the original versions of songs that later made it to albums. We also wanted to include some songs that were originally slated for those albums but never made it. A "worktape" is just that - a tape of a recent work, sometimes recorded for copyright purposes, sometimes so I could listen back and find out what was bothering me (that extra section in "Lover's Lullabye" for instance), sometimes for the arranger and producer to hear. All of these are from the very first time I sang them into a microphone. Minimal "fixing" was done in order to preserve the integrity of the originals.  Enjoy!
* These recordings were culled from "best available", which included DATs, minidiscs, old cassettes, reel-to-reel, and other formats. Our goal was to present them as close to the original sound as possible; you may hear small glitches in some, including one drop-out. Any further attempts to manipulate the audio and remove more hiss, or clean up external sounds, resulted in a loss of fidelity Janis was not willing to entertain. Thank you for understanding!
Produced by Jeff Evans and Janis Ian
Photography by Peter Cunningham
Cover design by Jeff Evans
Mastered by Eric Conn for Independent Mastering, Nashville, TN.
For more information, lyrics, etc, visit https://janisian.com.
Pianos: Janis Ian
Guitars: Janis Ian, Sal Di Troia, Jeff Layton
Drums, percussion: Barry Lazarowitz
Upright bass: Richard Davis
Electric bass: Stu Woods, Steve "Fontz" Gelfand 
Second vocalist: Claire Bay
All songs by Janis Ian
The Man You Are In Me, Jesse, Thankyous, and Without You c. Taosongs Two. All rights reserved; used by permission.
All others © Mine Music Ltd. administered by Sony Publishing. All rights reserved; used by permission.
Master ℗ Rude Girl Records, Inc. All rights reserved; used by permission.
Much thanks to Esther Friedman, Eriko Nitta, and Kathleen Brogan for their assistance with this project. 
Visit the Janis Ian website.
Visit the Better Times Will Come website.

---
Share this Product
---
More from this collection